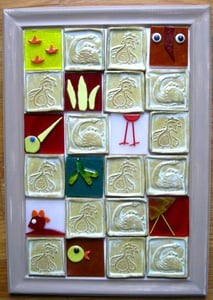 $

350.00
Fused Glass and Ceramic Tile
Approx. 14" x 17"
Multiple tiles of fused glass and ceramic. This is a collaborative piece: Yvonne Yaar and Barbara Rivolta. Yvonne made the fused glass and Barbara made the ceramic. The frame was also made by Yvonne with a shabby chic look. One of a kind.
IMPORTANT - PLEASE READ-This piece, like other wall art in my collection, are often exhibited. There is a chance that it may be purchased and there may be a delay before it is reflected here- simply because the gallery/museum may not inform me the same day. There is no guarantee, since these are one of a kind pieces. Please contact Yvonne directly: YaarArt@gmail.com for availability confirmation.