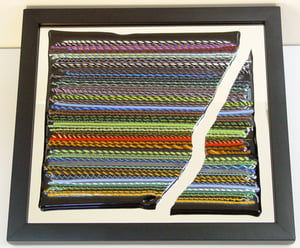 $

695.00
10.5 h x 11.5
Wall Art
Fused and Flameworked Glass
Dozens of *filigrana cane, hand made by the artist, and then laid on black glass. The next step was to put it all in the kiln and mostly full fused the entire piece. When exhibiting this piece, people seem compelled to touch it. Not all the cane completely fused flat, so there is a little bit of texture to it.
Finally the finished glass is mounted to a mirror and professionally framed.
*Filigrana is Italian for filigree glass. It is the generic name for glass made in front of a torch with colored glass canes.

IMPORTANT - PLEASE READ-This piece, like other wall art/ sculpture in my collection, are often exhibited. There is a chance that it may be purchased and there may be a delay before it is reflected here- simply because the gallery/museum may not inform me the same day. There is no guarantee, since these are one of a kind pieces. Please contact Yvonne directly: YaarArt@gmail.com for availability confirmation.